LetzHandy - Handyman Clone Script
Handyman clone script is an best ondemand mobile app based software used to schedule services for occasional domestic needs and repairs such as plumbing, painting, gardening, babysitting and many more. Featuring a wide range of features,and its appealing design makes it ideal for aspiring entrepreneurs to launch an ondemand marketplace.
How LetzHandy - Handyman Clone Works?
Users can search for a service provider nearby and request for an appoinment. Service provider can accept the request and provide the service. Payment can be processed through the application. Admin can earn platform fee from both parties.
Why LetzHandy (Best Handyman Clone Script)?
LetzHandy takes the Handyman's core idea and let's the users to list multiple ondemand services in our user-friendly app. We enhanced our app with latest flutter code. so, there is no quality compromise for both android and iOS devices users.
Unique Features of LetzHandy (Handyman Clone Script)
Instant Booking
The user can book a service immediately with the "Instant book" option.
Scheduled Bookings
The user can pick the services they need and schedule them later with accurate date and time.
Extensive Report for Admin
Admin can monitor all payment transactions, service provider activities, service fee setup, etc..,
Location Based Pricing
App admin can set a specific fee for each service provider with selected locations.
Provider Availability
Admins can able to set detailed availability schedules for users. This can make a understand between users & providers.
Verified Service Providers
All the handyman providers can be verified by their real id document, mobile number, etc.,
Apply Voucher
If you are an admin, you can add different coupon codes to encourage users to welcome again to the platform.
All in One Dashboard
Our admin dashboard includes various features, such as overall statistics, income, payout statistics, transaction graph, etc.
Individual Wallet
A built-in e-wallet facility enables customers and service providers to make payments more conveniently.
Tip to Service Provider
Using this option, users are able to send instant online tips within the application, to encourage the best service.
Live chat & Call
Using this special option users and service providers are able to communicate within in-app chat and call for any queries.
Instant Notifications
Users & providers both can receive push notifications from admin. About provider, service, locations details etc.,
Rating & Reviews
Users can able to rate the service and write reviews, based on their satisfaction and to make clarity for other users.
OTP verification
With Twilio SMS gateway, you can receive SMS OTPs for multiple authentication, such as sign-up, log-in, & other sms.
Invoice Generation
A detailed invoice is automatically generated finally, when the payment is complete.
Additional Fee
The service providers can charge additional fees to the customers, such as tolls, extra material costs, etc. It will add to final bill.
Service History
The past history details can be view by both users and service providers. It is helpful for future reference.
Google AutoComplete
This option has been integrated into the location search bar for the convenience of users. It enhances the search experience.
Advanced Filter
This option is used to get the exact one you want easily. Using this feature you can filter price range, service categories etc..,
Wishlist
Using wishlist, users can create personalized collections of services & they would save them for the future.
Why Choose Us
Free Server Installation
Server Installation and software installation is a compliment from our side after the completion of the purchase.
Free Bug Support *
Bug-free software is our ultimate goal. We have a dedicated software test engineers team to deliver you a bug-free product.
Splendid Support System
Our support system is always ready to provide you with on-time support. Our rapid support service will give a solution for your queries faster.
AtoZ Customizable
Our Products are designed to be A-Z customizable that help you create a flexible platform that suits your business plans.
Free Technical Support
All your technical queries can be handled by our dedicated support team through email and skype.
Free App Submission
After the app purchase, we help you to submit your android & IOS app in both google playstore and app store.
Free White Labeling
Once the purchase is completed, your purchased software can be white labelled with your company and brand names.
Free Updates on products*
We often update our products and release newer versions. Those new updates will be shared with all our clients for free of cost.
Android & IOS Support
To maximize market reach, our handyman script is available for both Android and iOS devices.
Standard features of LetzHandy (Handyman Clone Software)
Provider Status Toggle
Grained access control Admin roles
Multiple Logins
Multiple Languages
Multiple Currencies
Multiple Listings
Manage Admins
Manage Service
Static Page Management
Site Info Settings
Multiple Payment Support
Quick Share
Advanced Filters
Responsive Admin Panel
Smooth Ui/Ux
Proper App Updates
Experience Live Demo before you buy it
User login
User Name:
Password:
12345678 Copied
Play Store
Provider login
User Name:
Password:
12345678 Copied
Play Store
Admin login
User Name:
Password:
12345678 Copied
Premium Source Code Purchase
One time purchase of our premium source code
PROFESSIONAL
$ XXXX
100% Source Code
30 Days Free Support
Contact Us
ELITE
$ XXXX
100% Source Code
6 Months Free Support
Contact Us
Technologies Used In Our On demand services Solution
VueJs

Laravel 10

MYSQL

PHP 8

Web Pack

Dart

Flutter 3

Bootstrap 5

SASS
Download The User App
Get a free demo of our flawless Home services user app. It includes handyman authentic features and functionalities for both Android & iOS devices. Explore the complete working flow of our handyman clone user app.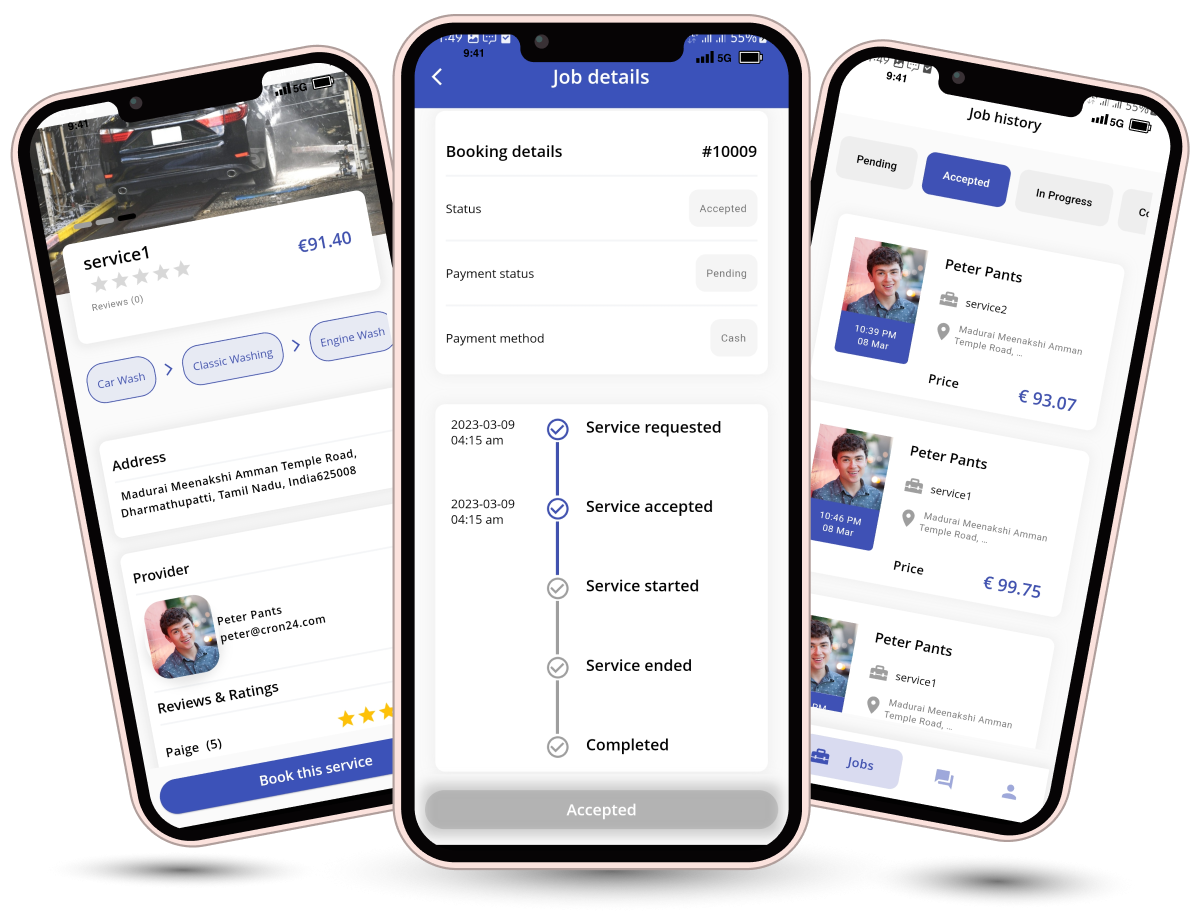 Choose your plan that suits to you
| Specifications | Business | Professional | Elite |
| --- | --- | --- | --- |
| One Time Fee | | | |
| 100% Source Code | | | |
| Free Installation | | | |
| Free Support | LifeTime * | 30 Days | 6 Months |
| team viewer support | | 15 Days | 3 Months |
| User App | | | |
| Provider App | | | |
| Unlimited Users | | | |
| Unlimited Providers | | | |
| Location Based Pricing | | | |
| SEO Friendly URLs | | | |
| Multiple Languages | | | |
| Multiple Currencies | | | |
| Social Media Signin | | | |
| Commission Fees | | | |
| Built in Messenger | | | |
| Peak / Night Pricing | | | |
| Sub Admin Management | | | |
| Cash Payment Mode | | | |
| Payout System | | | |
| Payment Gateways | PayPal, Stripe | PayPal | PayPal, Stripe |
| Payout Methods | Paypal, Stripe | Paypal | Paypal, Stripe |
Have a question about
On demand services Script?
Release Details For Handyman -
On demand services Solution
Released : Jan 03, 2020
User App
Login with Social Media
Location based Search
Request Service
Provider tracking
Live Tracking Feature
Review & Rating
Multiple Payment Methods
Service History
Provider App
Login with Social Media
Built In Chat System
Document Verification
Online / Offline Toggle
Accept Request
Live Tracking Feature
Additional Fare
Pay to admin
Service History
Web Admin Panel
Multiple Admins
Manage Roles & permission
Detailed Dashboard
User Management
Provider Management
Service Management
Payout Management
Manage OWE Amount
Manage Documents
Manage Services
Manage Locations
Manage Pricing
Manage Fees
Manage Site Informations
Manage Meta Informations
Manage Social Media Links
Manage Reviews
Manage API & Payment Gateway credentials
Export customized Reports
Send Email to Users
Promo code Management
Manage static pages
Manage Help details
Disclaimer: We are using the word "Uber" for reference purpose. We are not related in terms of any form to "Uber" or "Uber technology" not promoting "Uber".
Contact Us
We are here to help you to improve your business in the competitive market.
Our Address
Technology Business Incubator, TCE Campus, Thiruparankundram,Madurai 625015
Call Us
+91 93602 39309
Cron24 Technologies