Trady - Etsy Clone
Trady - Etsy Clone Marketplace Script is an online marketplace software for multi-vendors to Buy, Sell products online. In an eCommerce Concept, multi-vendor which means allowing vendors to create their profile online and offers them a platform to sell their products to their customers spread across the globe. Trady also offers the same functionality through its trending and best multi-vendor eCommerce clone script.
Why Trady (Best Etsy Clone Script)
Trady is deigned with Latest High end technologies and 100% customizable to satisfy your business need. Which will help you start your business as you wish.
Unique features of Trady (Fancy Clone Script)
Multivendor System
An effective multi vendor ecommerce script that allows an admin to have multiple vendors, serving a variety of products to customers under a single platform
Detailed Report for Admin
Location address data denoted through google map and availablity data of the property rooms through ical synchronization will prevent users from duplicate booking. Which leads to hussle-free booking
Admin Preferred Environment
Admin user can control the entire website with his/her super power. Also admin can monitor all the transaction activities, user activities, listing activities, payment processing, fee configuration, etc from the single dashboard. Admin can also create more sub admins with multiple grained permission to manage the website
Frequent Updates
To be ahead in updated technologies, hyra is getting upgraded with frequent technologies. Upgraded patch files are being shared to its user as well
Multiple login
Users can sign-up and sign-in to the platform via email and social media methods such as apple login, facebook login, google login
Shipping and Orders
Our Fancy clone lets users add more shipping addresses. So, at the end of the purchase, buyers can select the desired destination that is more convenient for them to ship the products.
Search & Filter
Buyers can now refine the product search by making use of this various filter option of our Alibaba clone script to filter products depending on their needs.
Multi level category
With multiple levels of categories in our etsy clone, buyers can choose their preferred products easily from the most appropriate categories.
verified Stores
Each stores created by Stores will be published, only if they are verified by Admin. This would help to have only verified stores in the website to
Multiple Languages
To launch and become familiar world wide, hyra supports multiple language for the ease access for various country people
Multiple Curriencies
As like muliple language, hyra supports multiple country currency to do transaction on the user's own currency
Single Shot Dashboard
Both the Host users and Guest users have their own dashboard to view all their recent activities at the top level. This will clearly showcase their transaction history, estimated earnings, upcoming bookings etc..
Why Choose Us
Free Server Installation
Server Installation and software installation is a compliment from our side after the comletion of purchase.
Free Bug Support *
Bug free software is our ultimate goal. Bugs findout from you will be fixed immediately depends on the vulnerability or can be fixed in the future realese of the product
Splendid Support System
Our support system is always ready to provide you on-time support and maintenance. Our rapid support service will give solution for your queries faster
Customizable Software
Trady is 100% customizable trady clone which leads your business to user preferrable platform to become familiar faster
Free Technical Support
All your technical queries to deploy the website to the servers and technical tips to keep the server reliable is always free.
Easy Onboarding
Our deployment manager system will help you to get into your takeoff. So onboarding process of your online rental business will become more and more easier
Free White Labeling
Once the purchase completed, all the rights and access will be white labeled with your comany name.
Free Updates on products
We often release new versions on our products as updates, to highly commit ourself as we provide bug free and latest technology dipped product.
Explicit Online Store
All our applications are built with latest marketing standards and strategic technologies which helps you ahead in the online market to attract lot users.
Standard features of Trady (Etsy Clone Software)
Immediate Business start
Grained access control Admin roles
Multiple Languages
Multiple Currencies
Multiple stores
Multiple Delivery Locations
Static page management
Site Info Settings
Responsive Websites
Store Approval
Advanced Filter
Seo Friendly
Benefits Of Our Etsy Clone Script
Homepage
Trady Comes has beatiful landing page with a detailed search bar, Image slider, and banner content. Cron24 helps in grabbing user attraction and increases brand recognition.
Multiple Login / Sign Up
It's easy to create an account and login to Trady using various social media login options like Facebook, Google & Email.
Cart
A place for all the selected items to be consolidated and stored prior purchase.
Favourites
Offering a favourites feature in Trady is an easy way to remind the guest regarding their saved listing at the time of booking.
Shipping & Delivery Address
Manage their Account easily with Trady
Single Shot Dashboard
Monitor and manage the entire activities done on the platform with an effective dashboard. You get to know the new requests, upcoming bookings and current stats.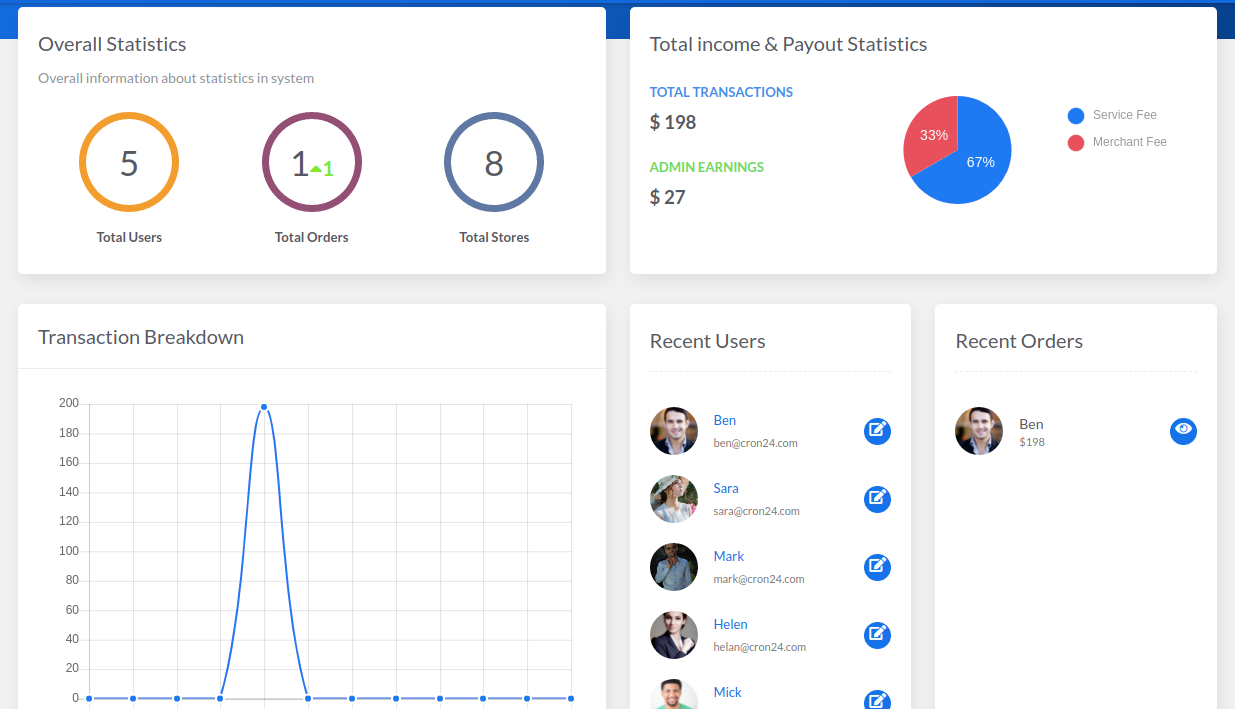 Advanced Search Filters
Manage Multiple stores in the single page
Experience Live Demo before you buy it
Pricing plan for Trady (Etsy Clone Script)
Check our Pricing
BUSINESS
FREE
100% Source Code
Lifetime Free Support *
Contact Us
ELITE
$ XXX
100% Source Code
6 Months Free Support
Contact Us
PROFESSIONAL
$ 399
100% Source Code
30 Days Free Support
Contact Us
Technologies Used In Our Fancy Clone Solution
Angular JS

VueJs

Laravel 8

MYSQL

PHP 8

AWS

Flutter

Bootstrap 5

SASS
Choose your plan that suits to you
| Specifications | Business | Professional | Elite |
| --- | --- | --- | --- |
| One Time Fee | | | |
| 100% Source Code | | | |
| Free Installation | | | |
| Free Support | LifeTime * | 30 Days | 6 Months |
| team viewer support | | 15 Days | 3 Months |
| Responsive Design | | | |
| Unlimited Buyers | | | |
| Unlimited Stores | | | |
| Unlimited Product Variants | | | |
| SEO Friendly URLs | | | |
| Multiple Languages | | | |
| Multiple Currencies | | | |
| Social Media Signin | | | |
| Commission Fees | | | |
| Favourites | | | |
| Cart | | | |
| Sub Admin Management | | | |
| Cancellation Policies | | | |
| Payout / Refund System | | | |
| Payment Gateways | Stripe | Stripe | Stripe |
| Payout Methods | Stripe | Stripe | Stripe |
Have a question about
Etsy Clone Script?
Release Details For Trady -
Etsy Clone System
Released : May 07, 2021
User Web
Login with Social Media
Advanced Search filters
Favourite Listing (Wishlist) option
Social Media verification
Multiple payment methods
User Account settings
Multiple Currency
Multiple Language
Transaction History
Multiple Return/Exchange Policies
Add To Cart
Order History
Android Web View App
Web Admin Panel
Multiple Admins
Manage Roles & permission
Detailed Dashboard
User Management & verifications
Store Management
Payout Management
Manage Penalities
Manage Home page Sliders
Manage Products
Manage Fees
Manage Site Informations
Manage Meta Informations
Manage Social Media Links
Manage API & Payment Gateway credentials
Export customized Reports
Send Email to Users
Coupon code Management
Manage static pages
Manage Help details